There are often cases wherein people desire a LASIK surgery but they have been told that their corneas are too thin. Therefore, the recommended option for them to correct their vision, is by Visian ICL. Visian ICL is a procedure which does not involve a laser eye surgery. The procedure involves an implantable collamer lens implant that is surgically placed in the eye, usually in between the iris and the natural lens. The lens is often called an implantable contact lens as the lens is used to correct near-sightedness or myopia. The procedure of Visian ICL is performed in an operating suite with the compulsory presence of an Anaesthesiologist.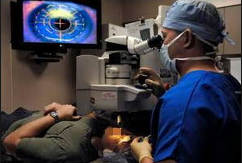 The procedure of Visian ICL is usually preferable for candidates who are:
1. Not recommended the procedure of LASIK.
2. Has an eye free of any significant disease.
3. Comprehends the risk of cataracts.
4. Has a deep anterior chamber of the eye.
There are many patients who constant enquire of cataract surgeons whether the process of Visian ICL corrects astigmatism. However, the process does not do this. It fails to correct astigmatism. To reduce astigmatism, however, doctors can perform a LRI or a Limbal Relaxing Incision to reduce the astigmatism. For those patients who have more problems with low astigmatism, the procedure of Visian ICL can be paired with a LASIK or PRK procedure.
The procedure of Visian ICL is not flawless. There are many limitation associated with it. There are mainly top two limitation of the Visian ICL:
1. There is a risk of creating a premature cataract. In the case that this happens, a cataract surgery should be performed immediately and lenses should be used to correct near and far vision.
2. Usage of monofocal lens. The procedure of presbyopia can correct the vision by only 1 distance. It will not correct vision at near and far.